"As the bright moon shines over the sea,
From far away you share this moment with me.
For parted lovers lonely nights are the worst to be.
All night long I think of no one but thee. "
Zhang Jiu-Ling
4.5
In a genre usually filled with :
-spineless and naive heroines
-unrealistic caveman heroes
-predictable and cheesy plots
to find a novel with none of the above is almost impossible .
Luckily , for demanding readers like myself , there're a few magnificent authors who have managed to avoid said cliches .
And Jeannie Lin is one of them .
"The Jade Temptress" is a novel about a woman ...
: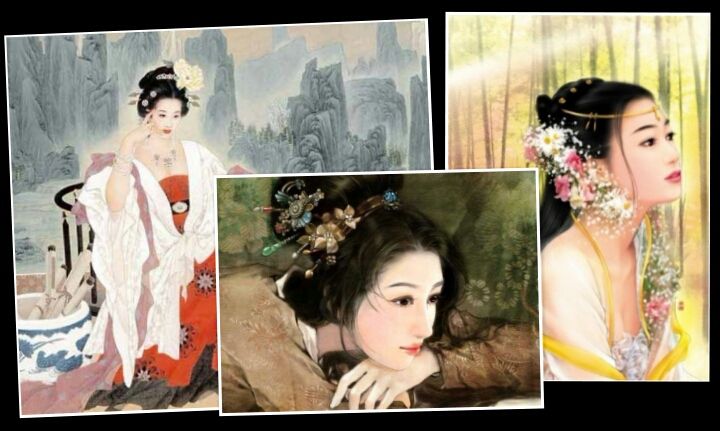 (Li Shishi)
"Mingyu had been in her place once, but it seemed so long ago. Now she was part of the cycle, training another girl into the life: bondage and servitude on one side, poetry and music on the other."
A man ...
"He was the one who was difficult to look at. His face lacked any refinement. Wu Kaifeng wasn't ugly—he was more like a puzzle that didn't quite fit together. There was no harmony to him, no sense of balance. Wu was long in the face, broad in the nose. The eyes were black and hard and unwavering. A sharp jawline framed his hard mouth, a mouth that she had never seen smile. Yet when all of those features were put together, they created a picture that was inexplicably striking"
And Their interactions ...

"I hear there can be bitter rivalries among women."
She snorted. "And there aren't bitter rivalries among men? There's always a higher mountain, they say."
"Or someone who feels the need to exert their superiority," he agreed
WU and MINGYU are two errant souls whose lives revolve around work . Hers , as a slave to powerful men ; his , as a head constable . But While for Mingyu days are a constant longing for freedom , for WU Kaifeng life is tolerable except when it comes to his difficult past ...
or when it comes to dealing with a certain courtesan whose beauty bewitches every man she meets .
Both of them were born in poverty and , after years struggling , they've learn not to trust anyone other than themselves. They are essentially the same: proud , cold and , in some ways , ruthless . THat is why when they collide , their encounters are exquisite -filled with smart dialogues , sexual tension and an equal intelligence given to both characthers that makes the couple even more loveable .
BUt Of course , the novel is not only about romance ...
Besides the delighful relationship between the main characthers , the story also deals with the role of women in China during the years of the Tang Dinasty ..
"Mingyu folded her hands in her lap and kept her gaze lowered. She didn't drink with them. She was an implement in this ritual, like the clay teapot or the cups.
She almost dreaded the moment the most senior member of the party would finish his cup and break the silence. It was easy being a silent fixture. Almost freeing."
....and A crime involving a beheaded victim (And if that doesnt give you goosebumps , then I don't know what will) that is well written and is as interesting and important as the romance -and not merely an excuse to unite the main couple .
An historical romance that every fan of the genre should read : Well written , with unexpected twists and a beautiful love story that avoids the usual stereotypes.
__
I got an ARC!! YAYYY!
I'll start reading today . between the waves and the wind , and the freezing air of the beach -because , naturally , after eleven years of not setting a foot nowhere near a beach , when I finally get the opportunity to do so ... IT'S raining! Lucky me ...
BIG THANKS TO THE AUTHOR FOR THIS COPY !